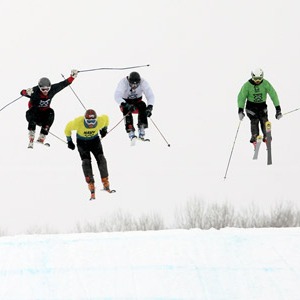 There was a time when baseball, football and basketball were top sports with kids. But today's teens want action. They want speed. They want extreme sports. The first Extreme Games (the name was changed to the X Games the following year) got into action in front of nearly 200,000 spectators in Middletown, R.I. in 1995. The four-day festival featured 27 events in nine categories, including bungee jumping, eco-challenge, mountain biking and sky surfing. At first, not everyone took the idea seriously but the X Games moved swiftly into the mainstream. The extreme sporting event became so popular that ESPN launched the Winter X Games in 1997, adding sports like snowboarding and snowmobiling.
The X Games vs. the Olympics
For nearly a century, the Olympics were the ultimate sports competition. Winning gold at the Winter or Summer Games was about the highest honor athletes could hope to achieve. Today the Olympics are struggling to keep up with the much cooler X Games. In an effort to woo a new generation of viewers, the Olympics challenged its own tradition by adding several extreme sports to its schedule. In 1992, it added freestyle skiing moguls. Six years later, snowboarding made its debut. As a result, ratings jumped by nearly 25 percent among Generation X and Y viewers.
Top Winter X Games Events
• Snowboard SuperPipe: Snowboarders ride from one side of a U-shaped pipe to another. As they catch air, they do spins and jumps. (Skiers also have their own SuperPipe competition.)
• Snowmobile SnoCross: Snowmobilers race each other around a track filled with obstacles and jumps.
• Slopestyle: This is a type of freestyle skiing in which the skier has to navigate through an obstacle course.
• Skier X: A competition in which skiers go head to head, competing to be first while perfectly executing jumps and other tricks.
• Big Air: Skiers gain momentum on a big ramp, then leap off it to perform amazing midair tricks.
Top Summer X Games Events
• Supermoto: Motorbike racers compete around a combination dirt-and-paved track dotted with small jumps.
• Bicycle Dirt Jumping: BMX bikers try to outdo each other while performing tricks on huge dirt hills.
• Skateboarding Vert: While riding up and down a U-shaped ramp, skateboarders perform amazing flips and spins.
• Wakeboarding Freeride: Part surfboarding, part waterskiing, competitors use the boat's wake to get in the air and do a variety of tricks.
Extreme Athletes
Just who are the athletes who make the X Games' crowds gasp? Here are a few of the competitors who have established themselves as extreme sports legends over the years:
Shaun Palmer: This Kirkwood, Calif., native once said "I am the king!" When it comes to snowboarding, he's right. By 2008, he had already competed in 10 X Games, and at 38, he was still dominating on the slopes. Palmer is tied for the most number of gold medals in Winter X Games history.
Shaun White: The carrot-topped athlete is a leader in not one, but two extreme sports — skateboarding and snowboarding. In 2003, he became the first person ever to compete in both the Summer and Winter X Games in two different sports. In his 2008 gold medal run, he completed the first 1,260-degree (three-and-a-half rotation) spin in X Game history. White has also competed and won gold in the Winter Olympics.
Andy Macdonald: Better known as "Andy Mac," this skateboarding legend has been competing in the X Games since it began, and he's earned more medals — 17 (six of them gold) — than anyone else in the games. Macdonald also has the distinction of being the only person ever to have skated inside the White House [source: Andy Macdonald.com].
Terje Haakonsen: He's considered by some to be the greatest snowboarder in the history of the sport. Even though he doesn't compete much anymore, Haakonsen is still a legend.
Mike Metzger: Called the "Godfather" of freestyle motocross for the many innovations he introduced to the sport, Mike Metzger is probably best known for becoming the first rider to perform two backflips on a full-sized bike.
Tony Hawk: Even people who know nothing about skateboarding have heard of Tony Hawk. His name and face have graced everything from video games to an ESPN event (Tony Hawk's Gigantic Skatepark Tour). In 1999, he nailed the first ever 900 (two-and-a-half spins in midair) at the Summer X Games in San Francisco.
Girl Power! Fabiola Da Silva: Competing in an event dominated by men isn't easy, but Brazilian Fabiola Da Silva can hold her own among the boys. She's won eight inline skating medals (seven of them gold) at the X Games, and she was the first woman to execute a backflip in competition.