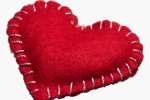 Make an 8″ heart pillow to dress up your room!
You'll need:
– 1/4 yard of fleece material (this is the soft stuff that jackets and blankets are made out of)
– Sewing machine or needle and thread
– Stuffing material (you can buy this in a bag at a craft or fabric store, or use old fabric cut in strips)
What to do:
Make a heart pattern on paper. Hint: draw 1/2 a heart, cut around curved edge, fold it over and trace it to make the second half of the heart, now both sides match.
Lay out your fabric, folded, so you have two layers.
Lay the paper heart on top, pin it to the fabric.
Carefully cut out the two layers of the fabric heart. Remove the paper.
Now, pin the two pieces of fabric together (do not put your pins too close to the edge or they will get in the way when you are sewing).
Now, with your sewing machine or a needle and thread, stitch around the heart, about 1/2 inch from the edge. Leave an opening large enough to put your stuffing in.
Stuff the pillow and then sew up the opening.
Now decorate with sticky-back felt letters or shapes, or cut out your own decorations and glue them on.