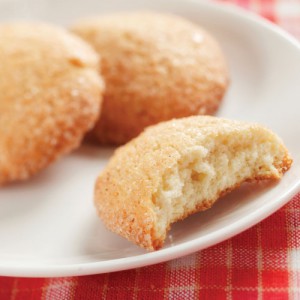 Your guests won't snicker over snickerdoodles because they'll be way too busy stuffing their faces with these scrumptious cookies! This tasty treat with the funny name was made by Dutch colonists in New Netherland (now known as New York). Here's what you'll need to make your own batch:
Ingredients:
– 1/2 cup butter or margarine (1/4 pound or 1 stick)
– 3/4 cup sugar
– 1 egg
– 2 cups flour
– 1 1/2 teaspoons baking powder
– 1/2 teaspoon salt
– 1/2 cup milk
– 1/2 teaspoon vanilla extract
– 2 tablespoons sugar
– 2 teaspoons cinnamon
What to do:
1. Preheat your oven to 325 degrees Fahrenheit.
2. Place the butter or margarine in a large mixing bowl and allow it to soften at room temperature. Take the back of a mixing spoon and press the butter or margarine until it's creamy and smooth. Add the sugar gradually and blend well. Then add the egg and beat well.
3. Put 2 cups of flour in a separate bowl, add baking powder and salt, and sift together. Combine milk and vanilla extract. Add one-third of the flour mixture to the butter-sugar-and-egg mixture, and blend until smooth. Add half of the milk mixture and mix thoroughly. Add the next third of the flour mixture and blend; then add the second half of the milk and mix well. Finally, add the last third of the flour mixture and mix dough until smooth.
4. In a small bowl, combine the 2 tablespoons sugar and 2 teaspoons cinnamon and set them aside. Butter a large cookie sheet measuring about 12 x 15 inches.
5. Drop mounds of dough by the heaping teaspoonful onto the cookie sheet while placing them about two inches apart (about 15 cookies to the sheet). Sprinkle each mound of dough with the cinnamon-sugar mixture.
6. Bake the cookies in three batches for about 15 minutes each or until the cookies are lightly browned around the edges and the centers spring back when touched lightly with a fork. Remove the batches to cooling racks, and then serve them once they've cooled down a bit. This makes about 45 warm and wonderful snickerdoodles!