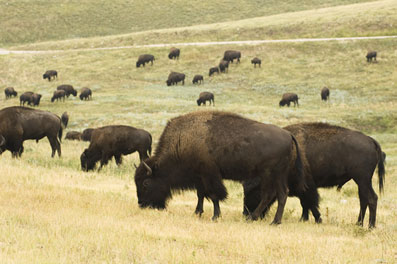 By ParksByNature Network
Have you ever seen a buffalo? In America, bison and buffalo describe the same animal. But what we call buffalo are really bison. Real buffalo are in Africa and Asia!
There are 1,300 bison in Custer State Park in South Dakota. It's one of the largest publicly owned herds in the world!
Bison can weigh as much as 2,000 pounds. They're also the largest native land mammals in North America! The Lakota Sioux Indians used bison to make food, clothing, and shelter.
Custer State Park has a Buffalo Roundup every year. September 26, 2014 will be the 49th Annual Buffalo Roundup! That's when cowboys and cowgirls try to get the herd into the Buffalo Corrals.
Once the bison are in the corral, they are branded and vaccinated. Along the way, there are two viewing areas, where you and your family can watch the 1,300 bison travel! And while they walk, you'll be only a few hundred feet away from them. Talk about a good view!
Don't forget about the Annual Buffalo Roundup Arts Festival! You can browse and buy art after you check out the bison.
So, now you know the home where the buffalo roam!
---
This article was brought to you by ParksByNature Network. Download our Pocket Ranger App in your state at www.pocketranger.com/apps and explore the outdoors!