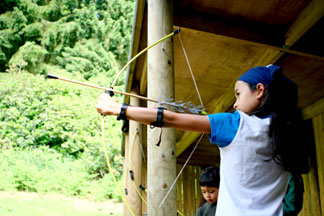 By ParksByNature Network
What do Robin Hood and Katniss Everdeen from the Hunger Games have in common? They're both expert archers! An archer is someone who is skilled with a bow and arrow.
The bow and arrow is an ancient weapon dating back to 10,000 BCE. Today, the bow and arrow is mainly used for hunting and target shooting. A modern bow can propel an arrow over 300 feet per second. That's over 200 miles per hour!
So how does it work? When you draw an arrow with a bow, you're creating something called potential energy. When the arrow is released, the energy travels from the drawn bow to the arrow causing it to fly. Arrows have little fins called fletching that help it travel in a straight line.
Becoming a good archer takes lots of practice. Even Katniss and Robin Hood had to practice. You also need to learn proper bow and arrow safety.
So where can I take an archery lesson? Many of America's state parks host archery events where you can learn to shoot a bow and arrow under professional supervision. Minnesota, Nebraska, and Kentucky are a few of the many states that offer beginner archery lessons.
Contact your local state fish and wildlife or DNR agency to find out about archery events happening near you.
---
This article was brought to you by ParksByNature Network. Download our Pocket Ranger App in your state at www.pocketranger.com/apps and explore the outdoors!