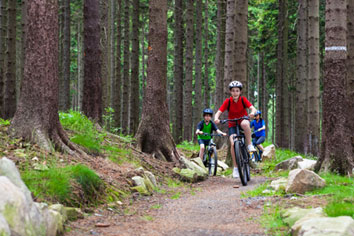 By ParksByNature Network
Where do you go when you want to ride your bike, but your driveway just isn't cutting it? Here's an idea: visit the state parks!
The hundreds of state parks across the country have plenty of trails that are perfect for bike rides. It doesn't matter whether you just got your first bike, or are a biking pro already. There are trails to fit everyone.
Some trails are paved and great for easy bike rides. Others paths are a bit more rugged if you're up for an adventure. Of course, you won't want to forget a helmet or other safety gear. It's important to stay safe no matter how good you are at biking!
You can bike through forests, around pristine lakes, or along other cool outdoor scenes. There's no telling what you might find when you're biking through the parks. Some parks are known for their wildlife, so don't be surprised if you spot a deer, hawk, or butterfly. Other parks have cool natural treasures, like roaring waterfalls, huge rock formations, or towering trees that are hundreds of years old. You might even see historic sights like old military forts, mills, or farms!
That sure beats biking around the neighborhood, huh?
---
This article was brought to you by ParksByNature Network. Download our Pocket Ranger App in your state at www.pocketranger.com/apps and explore the outdoors!