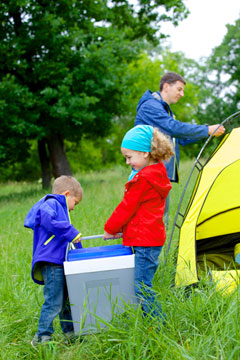 By ParksByNature Network
Have you ever slept under the stars or roasted marshmallows over an open fire?
If you haven't, you need to go camping. Each year millions of people leave their homes and head for the outdoors where they spend several nights in a tent, cabin, or motorhome. Some campers who want a more 'wild' experience choose to sleep under the stars without a tent.
But camping is more than just sleeping outdoors. Some of the activities enjoyed by campers include fishing, hiking, canoeing, mountain biking, and wildlife viewing. Camping is also a great way for young people to learn how to become self-reliant.
Camping is fun but it also requires careful preparation. If your campground doesn't have fresh water it is essential that you bring enough for both drinking and cooking. Be sure to inspect all your camping gear before you leave home. You don't want to set up your tent only to find it has a hole in it!
Some of the most popular camping destinations are state parks. State parks offer a variety of scenic camping experiences from backpacking to motorhome camping. No matter what option you choose, camping is a fun and affordable way to enjoy the outdoors.
---
This article was brought to you by ParksByNature Network. Download our Pocket Ranger App in your state at www.pocketranger.com/apps and explore the outdoors!