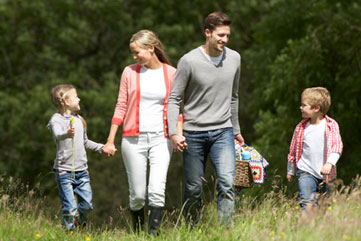 By ParksByNature Network
It's fun to eat. It's fun to be outside. It's really, REALLY fun to eat outside. So, the next time a beautiful day rolls around, why not think about having a picnic?
Picnics offer a lot of fun, but don't require much effort. They're super easy to plan. Most popular picnic foods – think chopped veggies, fruit bowls, and sandwiches – are so quick to prepare that you could make them yourself.
Other than some simple snacks, all you need is a blanket and a buddy or two. Oh, and don't forget the most important ingredients – the great outdoors and plenty of sunshine!
You know where you can find tons of great picnic spots? The state parks! (After all, the scenery at the parks is way better than in your backyard.) Relax under a shady tree, lounge on a sandy beach, stretch out on a grassy meadow, or just hang out at a picnic table.
We think you'll agree that food just tastes yummier when enjoyed outdoors. Besides, who couldn't use an excuse to stay outside just a little bit longer when the weather is so gorgeous?
---
This article was brought to you by ParksByNature Network. Download our Pocket Ranger App in your state at www.pocketranger.com/apps and explore the outdoors!