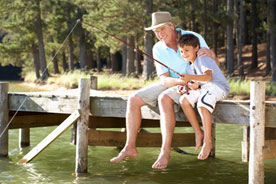 By ParksByNature
It's dawn and you're still wiping the sleep from your eyes. The lake in front of you is calm and quiet. Suddenly there's a soft nibble at the end of your line. The nibble turns into a sharp tug as the tip of your fishing pole bends forward. Now your heart is pounding. You jerk the pole up to set the hook and begin reeling. The fish rises to surface and leaps into the air. There's nothing like the thrill of catching your first fish.
Whether you take your catch home or release it, fishing is a great way to spend time with friends and family. Even on days when the fish aren't biting, it's easy to enjoy the relaxing feeling of being outdoors. Before you head out, make sure you know the fishing regulations that apply to your area.
So where can I go fishing? Fishing can be done almost anywhere-from tiny farm ponds to the great open ocean. State parks offer some of the best and most scenic fishing opportunities around. A few of the most popular sport fish include largemouth bass, catfish, bluegill, and trout. What do I need to go fishing? All you need is a fishing pole, some bait, and a sense of adventure!
---
This article was brought to you by ParksByNature Network. Download our Pocket Ranger App in your state at www.pocketranger.com/apps and explore the outdoors!