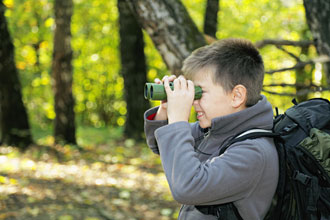 By ParksByNature
Do you ever wonder what's making all the pretty sounds that you hear outside of your window? Or what lives in the trees and has made their own homes there? Then you're ready to try out bird watching! All you need to get started is a pair of binoculars and a handy guidebook that lists the birds in your area.
At first you should just aim your binoculars at the trees around your house. You'll be amazed at what you'll discover. Using your guidebook you can check off bird species as you see them. Basically you want to collect them all.
When you're ready to put your bird watching skills to the test, try visiting a state park near you. There is a lot more ground to cover, and with that much open space you're guaranteed to find all sorts of birds like maybe a Savannah Sparrow or perhaps a Black-backed Woodpecker.
Don't be surprised to spot many other animals through your binoculars that'll get you just as excited! State parks are teeming with wildlife, so have those binoculars ready at all times to zoom in.
---
This article was brought to you by ParksByNature Network. Download our Pocket Ranger App in your state at www.pocketranger.com/apps and explore the outdoors!