By ParksByNature Network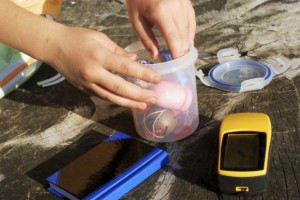 Want to feel like a pirate and discover treasure without the fear of walking the plank or having to stomach the rough seas? If that sounds like fun, then we've got just the thing—geocaching! This activity takes you to places so magnificent that you might decide that the journey itself is more epic than the treasure.
The places we speak of are state parks. Geocaches are hidden in parks across the country so adventurers like you can discover them (and maybe feel like a pirate on land).
Geocaches are items kept in containers that usually blend in with nature so they're harder to find, but that's all part of the fun! Inside could be an interesting seashell or perhaps a few funky looking rocks. Some geocaches are for trading, so collect a trinket in exchange for one you'll leave behind.
To find a geocache, use a GPS unit or smartphone to enter coordinates. Many state park systems have created geocaching tours that will lead you along winding trails or towards incredible historic sites. Visit your local State Parks website for locations.
Once you've decided on a park, download the coordinates and off you go. Bring water, sunscreen, insect repellent, a pen for the logbook, and your tradable trinket. Track where you're headed, but don't keep your eyes stuck to your GPS the entire time. Look out for any wildlife and take in the scenery, after all you're at a state park! 
---
This article was brought to you by ParksByNature Network. Download our Pocket Ranger App in your state at www.pocketranger.com/apps and explore the outdoors!