By ParksByNature Network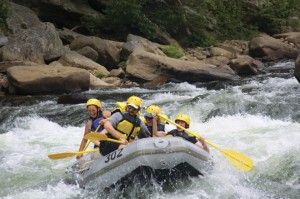 Rivers are great for swimming, fishing, and whitewater rafting! Have you ever gone whitewater rafting? Imagine that we're taking you to one of our favorite places to whitewater raft—Ohiopyle State Park, in Pennsylvania.
Whitewater boating is when you ride through river rapids in an inflatable boat. It's really fun! It can also be dangerous. That's why it's important to go whitewater boating with people who've done it before.
If you go at Ohiopyle State Park, you should definitely go with experienced guides. You can run the river on a kayak, raft, or close-decked canoe. The Youghiogheny River has a lot of rapids, so make sure you go on the right ones for your group. Class I and II are for beginners. These rapids would be great for you and your family. Class III and IV rapids are for experienced whitewater boaters.
Again, safety is a must! There are undercut rocks, ledges, and fast currents, so you have to be prepared.
But all of the safety rules will pay off when you're rafting through those awesome rapids!
---
This article was brought to you by ParksByNature Network. Download our Pocket Ranger App in your state at www.pocketranger.com/apps and explore the outdoors!