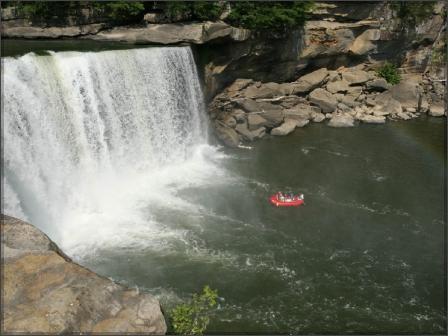 By ParksByNature Network
Studying rocks and fossils helps humans understand how we got here. We can use science to find out how long ago certain fossils were created. We can also use rocks and gems to find out what the land they were found in looked like many years ago.
You can be a scientist too (or a treasure hunter!) by going to Cumberland Falls State Resort Park in Kentucky. The newest thing to do at the park is gem mining. You do this by going to the Cumberland Falls Mining Company. First, you buy bags. Then, you start looking at the gemstone flume. You're sure to discover real gemstones in many colors and fossils!
Then, you put what you found on a screen and rinse with clean water. When the gemstones are wet, they'll show colors and crystal shapes!
There are lots of different gemstones to find at the park. You may discover rubies, moonstones, and emeralds, plus tons more.
Once you find your buried treasure, you can keep it! Gem mining's a really fun thing to do with family and friends. And the best place to do it is at (you guessed it) Cumberland Falls!
---
This article was brought to you by ParksByNature Network. Download our Pocket Ranger App in your state at www.pocketranger.com/apps and explore the outdoors!