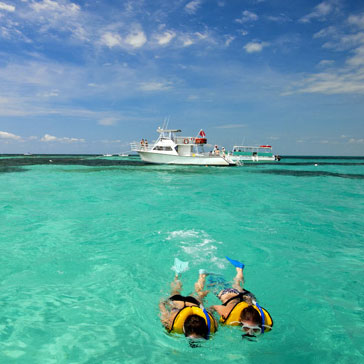 By ParksByNature Network
Have you ever thought about how cool it would be to live under the sea? We know it's not possible yet. But, you can explore the underwater world. Just go snorkeling!
If you've never been snorkeling, here are the basics. It's a way to check out the underwater world through the eyes of a fish! You wear a mask and a snorkel, which lets you breathe underwater.
One of the coolest places to snorkel is in Key Largo, Florida. It's called John Pennekamp Coral Reef State Park. There are special areas for snorkeling. You can see the sea grass communities and natural ledges with marine life. There are even artifacts from an early Spanish shipwreck! The park also has guided snorkeling tours.
You have to be safe when you snorkel. Make sure to never snorkel alone, stay close to the shore, and don't touch marine life. You also have to make sure your gear fits and is worn correctly. Be sure to ask your parents or guides for help.
But as long as you're safe and ready for fun, snorkeling will be a blast! Who's ready to hit the park?
---
This article was brought to you by ParksByNature Network. Download our Pocket Ranger App in your state at www.pocketranger.com/apps and explore the outdoors!