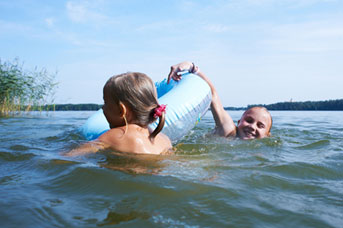 By ParksByNature Network
What's one of the best ways to cool off on a hot day? You guessed it—swimming! Even if you're lucky enough to have a pool in your yard, you should consider taking a dip in the ocean, a fresh lake, or a cool river. Whether you're at the shore or deep in the woods amid pine trees and waterfalls, nature's backdrop is pretty spectacular. You can soak up this beautiful scenery while at the same time take a refreshing soak if you visit a state park!
If you aren't already convinced about leaving your backyard pool, then maybe this will do the trick. If you want to take a break in between swims you could hike up a trail, go fishing or… watch buffalos roam! Oh, yes, there are parks that allow just that. Well not every park has buffalos, but you're sure to find other kinds of neat wildlife.
Go ahead and grab your swimsuit. Explore these famed places that we speak of, but be safe on your swimming adventure. Pay attention to signs and markers that designate where you can and can't swim. Lifeguards are often present to make sure that your experience is both fun and safe!
---
This article was brought to you by ParksByNature Network. Download our Pocket Ranger App in your state at www.pocketranger.com/apps and explore the outdoors!