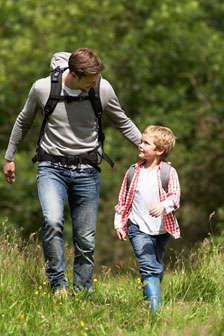 By ParksByNature Network
The next time someone tells you to "take a hike," you should say thank you! That's because hikes are awesome. Who wouldn't want to take one? What a great idea!
Hiking is (slightly) easier said than done, though. The first step is getting to the state parks, where tons and tons of awesome hiking trails await. Once you're at the parks, then the fun can really begin.
Set off on a trek through the woods, where you might spot some wildlife or get in touch with nature. Or, you could stroll along a peaceful beach and collect cool rocks and seashells as you go. You never know what you might discover when you set off to explore the great outdoors. The possibilities are endless!
Best of all, the state park trails come in all sizes, lengths, and difficulties. Your hike can be as challenging, or as relaxing, as you want!
Oh, and hiking is really good for you too. But with all the fun you'll be having, we doubt you'll be thinking about health benefits!
---
This article was brought to you by ParksByNature Network. Download our Pocket Ranger App in your state at www.pocketranger.com/apps and explore the outdoors!