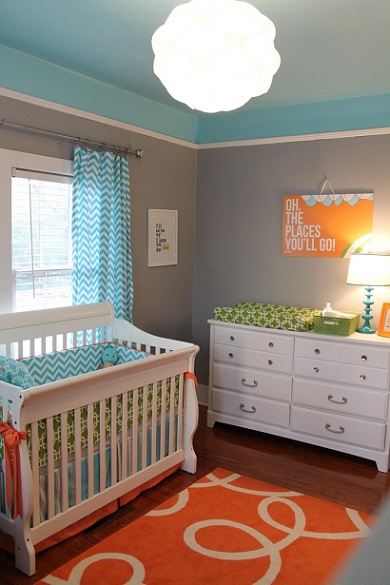 You've found out you're pregnant but decided not to find out the sex of the baby despite the fact that everyone you see asks you what you're having. While it's certainly a test of patience to survive the anticipation of what your new bundle of joy will be, there is also a common misconception: You will be banished to a world of pale greens and yellows when indulging in newborn clothes and designing your baby's nursery — while those who know their baby's sex are adding sugar and spice or planes and trains to their nurseries.
But we've found ten gender neutral nurseries that are big on style and sure to suit your newest member of the family for many years to come.
Turquoise Chevron and Orange Pops Nursery
Gray walls have taken over as the wall color of choice for many gender neutral nurseries, and they are the perfect backdrop for pops of color like these bright turquoise chevron draperies and bold orange rug in a nursery designed byAngela Furr. A reversible crib bumper in a modern green pattern and a coordinating changing pad add more interest and all the colors are tied together in artwork and accessories around the room.
---
Pale Palette
While color is fun, it's nice to create a soothing and calm environment for a new baby too. This room by Serena & Lily may not be bold in color, but it is rich in texture with layers of cream colored textiles starting with the rug and moving on to the pattern in the light fixtures and ottoman, all of which add depth to this cozy space. A hint of very pale blue and green add just the touch of color that make this room both sweet and elegant.
---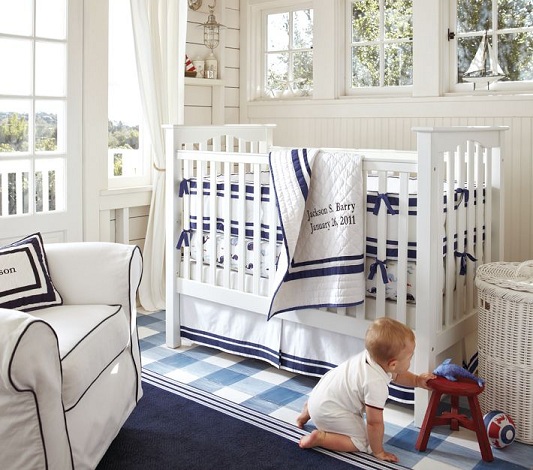 Neutral Navy
While many people automatically think beige and yellow when they think of neutrals, one of the greatest neutral colors is navy. It works well with rich colors like red and bright colors like green, orange, and fuchsia, so it will easily match all the accessories that make their way into your baby's room once he or she arrives. And when it's mixed with white like it is here, it offers a crisp classic look that will never go out of style.
---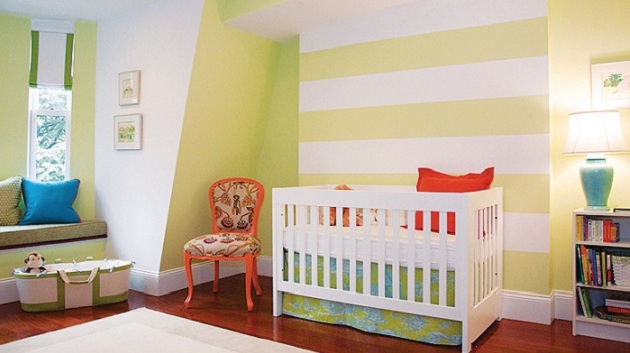 Green Stripe Nursery
Break up the solid color in your nursery with stripes on feature walls like Julie Richard of Shelter Interior Design did in this light and airy space. No matter what color you choose, this paint technique will give your nursery an extra shot of personality. Here pops of orange and blue make the space come alive and make it a fun yet chic nursery.
---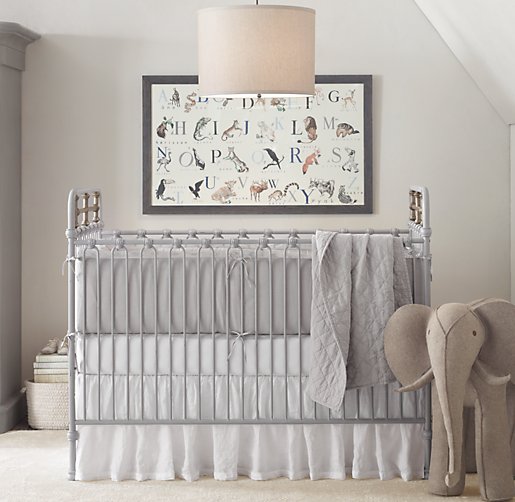 Elegant Gray Nursery
There are many elements of this nursery that make it so wonderful. The calm gray color palette gives it a cozy yet chic base. Layered with soft gray bedding and a vintage inspired light gray crib, the space offers a quiet resting spot for baby. And the alphabet artwork along with the elephant are great neutral accessories that have an heirloom quality that perfectly matches this elegant nursery.
---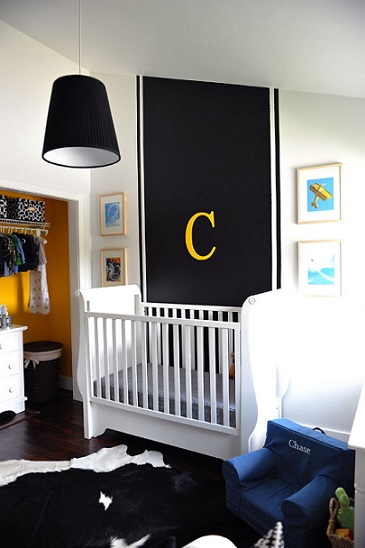 Black, White, and Yellow All Over
You can never go wrong with the combination of black and white, even when it comes to a nursery, but Project Nursery co-founder Melisa Fluhr takes this duo to new heights in her son's nursery by putting a bold black stripe from floor to ceiling behind the crib. Adding bright yellow to the exposed closet, book shelves, and window treatments make this into a fabulous bright and cheery baby room.
---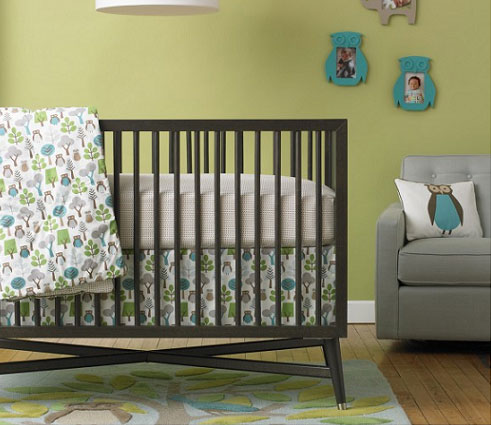 Woodland Nursery
Everyone loves nature, so a woodland creature theme is great for a gender neutral nursery. We like this modern take on nature from Dwell Studio. A tree rug is a reminder of baby's roots and the coordinating owl accessories are cute and colorful. The blue, green, and gray palette of this nursery is cool yet cozy and creates a great space for both sleeping and playing.
---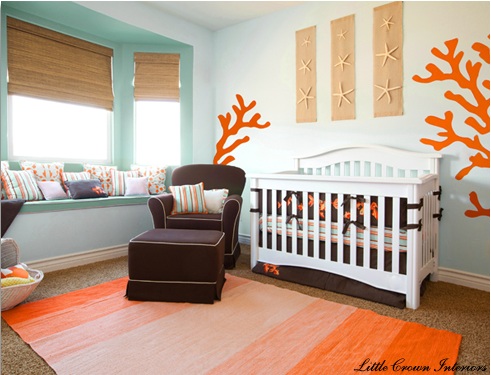 Coastal Inspired Nursery
Not that long ago brown was a must-have nursery color when paired with pink or baby blue, but it hasn't been seen as much lately. However, this coastal inspired nursery designed by Little Crown Interiors, which pairs the dark color with modern brights, will make anyone wonder why they let it fall off their nursery decor radar. It's impossible to go wrong with beach chic and we love the mix of the linen, chocolate brown, orange, and aqua in our favorite coastal elements.
---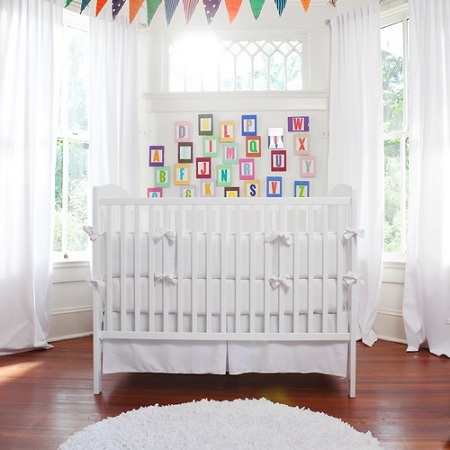 Bright and White
Sometimes the best way to make a space really pop is to create the absence of color. An all-white space is inherently chic, but can also be a little dull for a baby who is trying to take in every new bit of their world. We love the way that adding color in a concentrated area makes this room pop. This is a great design for renters who can't paint the walls. Rather than try to bring in tons of color, bring in more white to match the walls, and then just choose a few key pieces to make a color statement.
---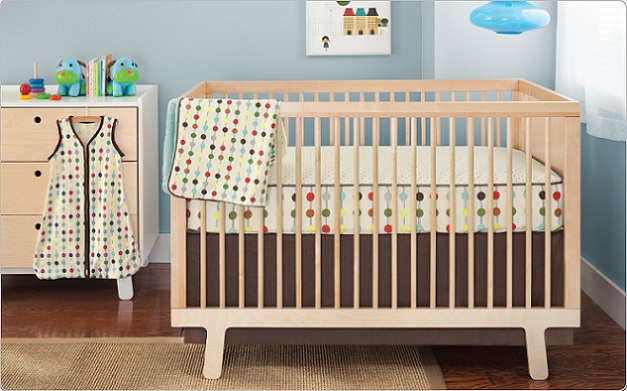 Mod Dots
A polka dot themed nursery like this one from Skip Hop is fun and colorful without being overwhelming for those who don't want too much color. Adding red to the mix of yellow, blue, and green is a great way to bring in another gender neutral color that isn't used as often in nurseries. The blue in this room is soft so it isn't too boyish, but this bedding would go just as well in a yellow, green, or red room too for those who are looking for lighter or darker spaces.