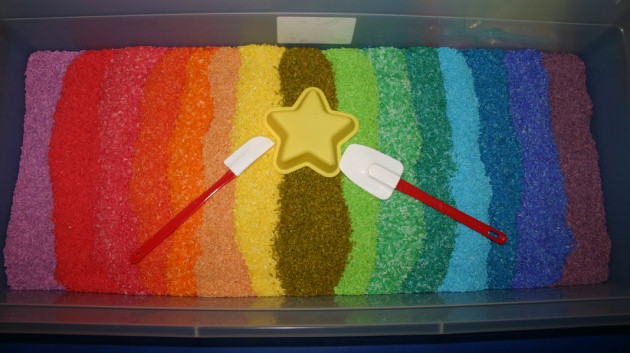 Young kids learn about the world via sensory input — by seeing, smelling, hearing, feeling, and tasting. The idea behind sensory learning is to give your child sensory experiences that teach them about the properties of objects and substances, help them develop dexterity, and let them put words to the sensations.
Simple sensory activities you can easily conduct around the house teach your child the difference between light and heavy, big and small, soft and scratchy, wet and dry. Let her experience those variations first hand with these easy projects that you can make with materials you already have, from small toys and rice to water and coffee beans — and without making a huge mess.
Rainbow Rice
The obvious application of rainbow rice is to learn about primary colors and mixing colors. But you can also help your tot fine tune those fine motor skills as she learns to grasp those tiny grains of rice (and it's easy to sweep or vacuum up if you suffer a spill).
The Forester Clan has another application for rainbow rice — practicing writing words in the rice with your fingers. While that's obviously advanced for toddlers, another idea is that you can draw shapes in the rice and let your child identify them. Older preschoolers can try drawing their own shapes.
---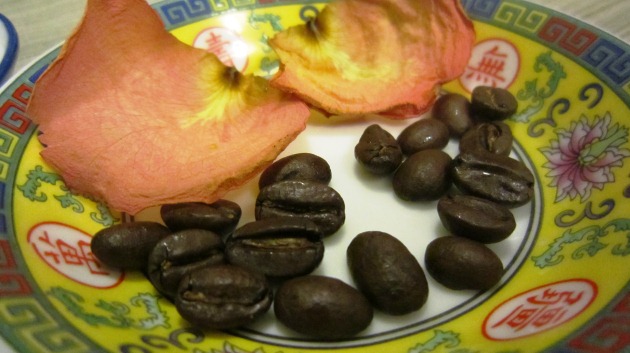 What's That Smell?
Help your child identify scents by having her sniff common items like coffee beans, rose petals, nutmeg, and cloves so she can learn what her nose is for and how wonderful and different things smell. This morning when I made my daughter her egg pancake for breakfast, she had a lovely time smelling the cinnamon and the vanilla.
---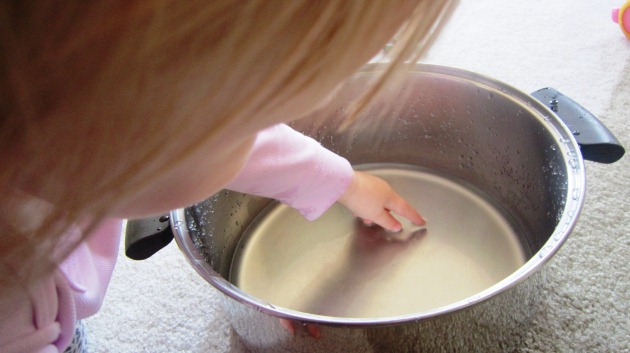 Wet and Dry
Bathtime is lots of fun, but with a tub full of toys after a long day, it can be hard to get a child to really focus and learn about water. All you need for an easy daytime sensory lesson is a big pot with just a little bit of warm water at the bottom.
Before your child gets her hands wet, explain that now her hands are dry. Then once she gets in there to splash around, her hands are wet! Point out that the water is warm, and then the temperature changes as the water gets cold. Let her put some toys in the water. Do they sink or float? This is also a great time to show her that she can see her reflection in the water.
---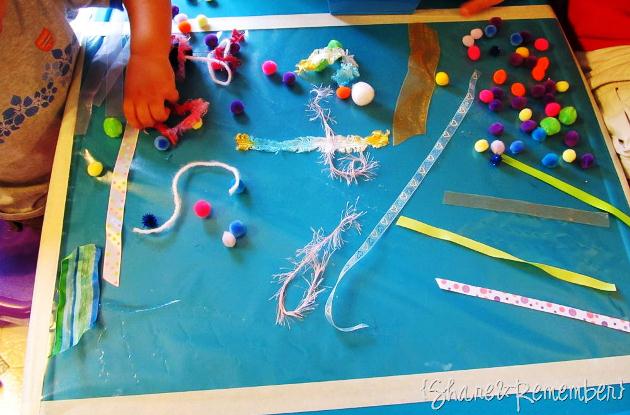 Contact Paper Collages
Tape contact paper to a table sticky side up or to a window, and give the kids a variety of craft materials to stick to the paper, like googly eyes, pipe cleaners, and feathers. (Stacy at Share and Remember used yarn, ribbon and pom poms.) You can also cut out pictures from magazines and catalogs or make construction paper shapes that your child can then stick to the contact paper. She's not only learning about texture, shapes and colors, she's learning what it feels like to create a beautiful and unique work of art!
---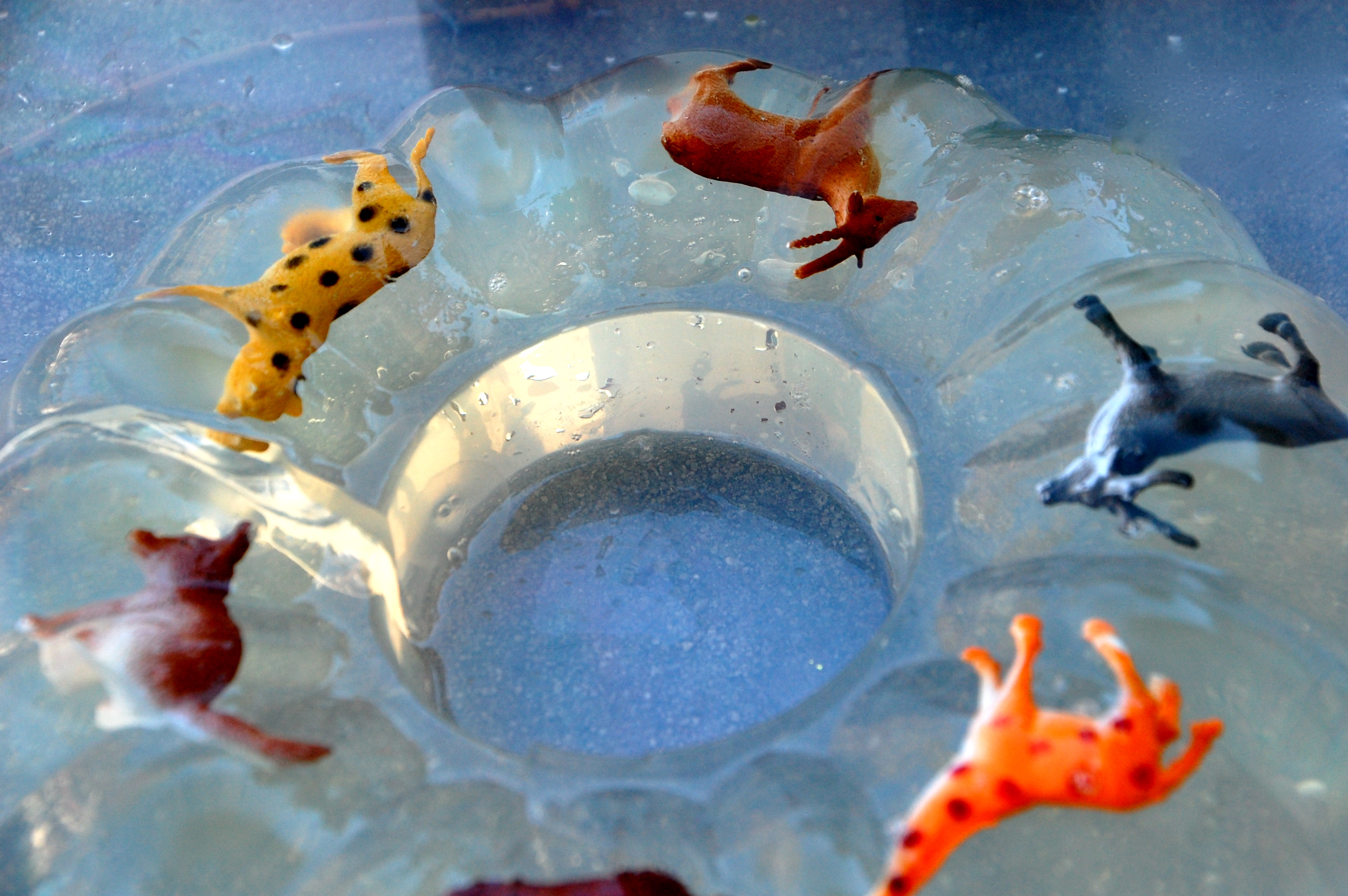 Jell-o or Ice Excavation
Freeze a few small toys in water in a food storage container, cake pan, or even a balloon, and then let your kids get to work excavating their toys from the ice with a spoon. (Rachelle at Tinkerlab went all out with a gelatin mold and bottles of colored water.)
This project could get a little messy, so make sure you do it in an area that a little water won't hurt (or outside, or in the bath, if that's easier). The less water you use, the faster the ice will melt and the easier the excavation will be.
---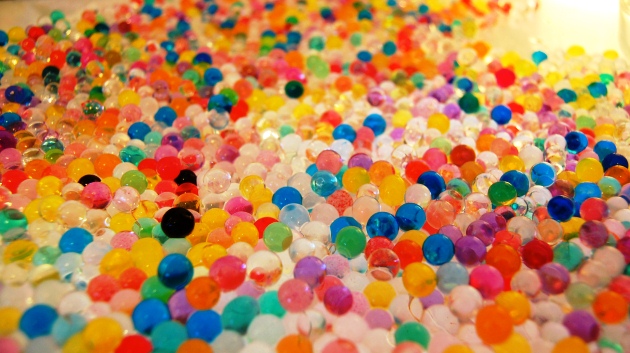 Water Beads
Water beads are a non-toxic soil substitute for indoor plants. They are also a heck of a lot of fun for kids. They start out tiny, and when you put them in water, they will absorb the water and grow and expand over several hours. As they change in size, texture, and color, your child will love playing with them!
Rachelle at Tinkerlab says waterbeads are a great way "to entertain your little one while you get things done" — although if your toddler has a tendency to put things in his mouth, then close supervision is a must.
---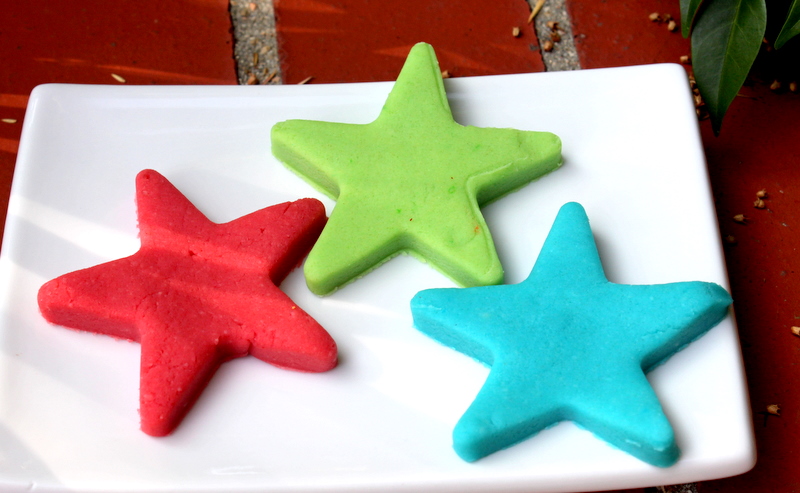 Kool-Aid Dough
With a few simple ingredients (including Kool-Aid), you can quickly make oodles of brightly colored soft and smooth play dough to keep the kids engaged.
Let your kids flatten the dough, cut shapes with cookie cutters, roll it into balls, mold animals (okay, that's actually what you're going to do), you know — the usual playdough hijinks. Juggling With Kids also shares a bit about the interesting smells the different Kool-Aid colors have. (Who knew?)
---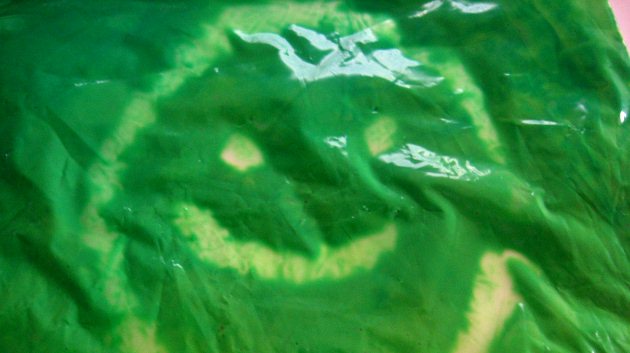 No-Mess Fingerpainting
Do you ever feel guilty about the level of dread you feel for the mess caused by fingerpainting? Forget about it. Here's a neat way to help your kids hone their dexterity and learn some pre-writing skills. Put some paint in a bag and place it on a flat surface. Let them "draw" on the bag with their finger by moving the paint around.
You can also teach them about color mixing by placing two colors together in the bag and seeing what new color appears as the first two colors mix, suggests No Time for Flash Cards. (A helpful comment left on that post pointed to dollar-store hair gel as a cheap alternative to using paint.)
---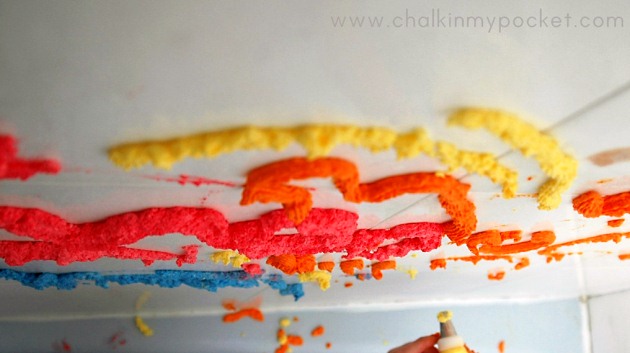 Bathtub Puffy Paint
You can even add your sensory learning lessons to bathtime with this soapy paint that gets your kid and your tub clean. Check Chalk in My Pocket for Regina's brilliant tutorial on how to make bathtub puffy paint using only soap, watercolors, and hot water.
Regina's 3-year-old was able to pipe the paint through a cake frosting tip in order to draw on the tub walls. For younger kids, the parent can apply the paint, and then the child can go crazy spreading and mixing the colors. When you're all done, just use your showerhead to spray down the walls and watch the colors disappear.
---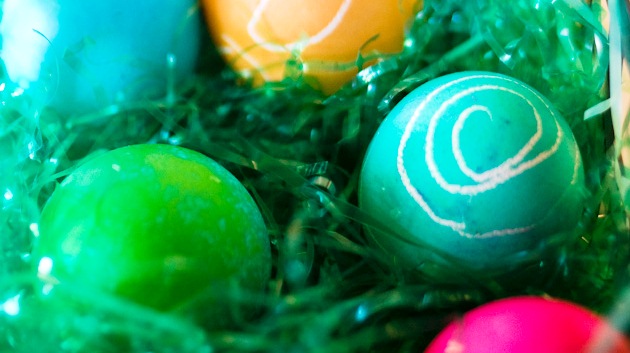 Easter Baskets
Easter baskets are the original sensory playsets: Look at all those colors! Tap two smooth eggs together. Listen to the plastic Easter grass rustle, and the quiet sounds of the jellybeans clicking against one another. Feel the sticky crunch of the sugar-coated marshmallow chicks between your fingers. Pull one apart and feel the soft marshmallow stretch.
My favorite part: Look at those gorgeous little foil-covered chocolate eggs. Feel the foil crumple between your fingers, and then breathe deeply and enjoy the smell of the chocolate. Or you can focus on peeling one of those Easter eggs. Your choice — but you'll find plenty of opportunities to see, hear, touch, smell, and taste with this and other holiday traditions.