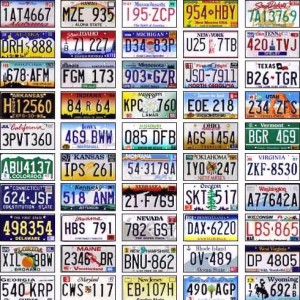 We combed the web to find a rainbow of free travel activities for you and your kiddos — because when you're strapped to a velour seat for an unnatural amount of time, entertainment for the little tykes is a gift to everyone within a 20-foot radius.
So fire up that printer for these fun free travel games — and hit the road without worrying about meltdowns, stocking DVDs, or hearing one more round of "Are We There Yet?"
1. Whole Family Travel Games from Squidoo. No writing or reading required for old-fashioned games like "I'm Thinking of an Animal" and "20 Questions."
2. Travel Memory Game from Crayola. In this game, kids have to look at the trip-centric images for two minutes, then put the page down and draw as many items as they can remember until the time is up.
3. Spot That License Plate from Real Simple. A design-friendly version of the classic game. Print out the chart and hand it out to everyone in the car. The first person to spot a plate gets the points. (Less-populated states earn higher points).
4. Mad Libs for Kids by Classroom Jr. Tons of printable Mad Libs geared to every season and a bunch of holidays. Basic vocabulary and grammar knowledge necessary, but laughing is for all skill levels.
5. Road Trip Scrabble from Crayola. How many words can your child make out of the letters in A ROAD TRIP?
6. Tongue Twister Bee from Zoom. The first person says a tongue twister once like "Don't drop double drum sticks," the second person twice, and so on until someone gets twisted.
7. Travel Detour from Crayola. Kids move their coins (or other game pieces) along the board by spotting horses, planes, and buses.
8. Printable Pinwheels by Craft Jr. Print out these colorful pinwheels, fold, and pin to a pencil eraser.
9. Highway Alphabet Soup by Family Education. Get the whole family involved in spotting objects that begin with each letter of the alphabet.
10. Roadside Bingo from Moms Minivan. Make these printable bingo cards last by slipping them into quart-size zipper bags and writing with dry erase markers. Four cards in both the "roadside items" and "vehicles and cars" categories.
11. Sign Maze Coloring Page from Crayola. To find their way home, kids have to watch out for the road signs.
12. Kids' Travel Activity Book from Family Education. Print off this mini-booklet of 22 word games, puzzles, and mazes for gradeschoolers.
13. Pretty Postcards from Family Education. Map out a friend's roadtrip based on the postcards with state abbreviations that she sends you.
14. Hand-drawn Paper Doll from Lily & Thistle. This adorable paper doll and two outfits are free, but you can also order a doll that looks like your child (complete with additional clothes and 'All About Me' pages).
15.  Traffic Jam from Crayola. Match the colors of cars on the game page with real cars to move your car forward.
16. Airplane Coloring Sheets from Free Printable Coloring Pages. Dozens of jets and other flying aircraft for you tot to scribble on.
17. Make a Newspaper Boat from PBS Kids. Step-by-step drawings show kids how to make their own boat from a sheet of newspaper.
18.   Scavenger Hunt for Preschoolers from Moms Minivan. Can your toddler find a green car, a cow, or a bridge? All she has to do is check the box next to the picture.
19.   License Letters from Crayola. When kids see a car of the same color, they write in the license plate number. Then they get to use the letters and numbers to make as many words and equations as they can.
20. Cars and Trucks to Color from Free Printable Coloring Pages. From double deckers to Corvettes, your transportation-lover will find a lot to love here.
21. Dr. Seuss Activities and Printables from Seussville. Ten webpages of printable games organized by activity and Dr. Seuss book.
We hope we will prevent a few "Are we there yet's" — as well as save you a few bucks — with this long and winding list of free travel games.