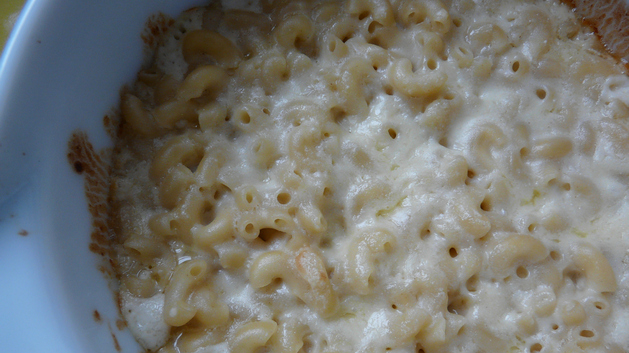 There is no question that there are a lot of picky eaters out there, but I think we don't give kids enough credit for being interested in eating foods that don't fall under the general category of "kid friendly foods" like macaroni, grilled cheese sandwiches and chicken fingers. There are so many healthy things to try, whether your child is an adventurous or a timorous eater, and it's up to us to keep offering  menu items that go beyond macaroni and cheese.
At a time when there are many concerns about processed foods and childhood obesity,  it's important to offer our children healthy food choices. Introducing vegetarian meals into their diet is a great way to broaden their options and their taste. In fact, it's a pretty common occurence for children to become interested in a vegetarian diet and as parents, we must ensure that they get the proper nutrients, rather than just dropping meat out of their diet.
I've compiled 10 recipes that are vegetarian, but familiar enough to kids that they won't think they are weird. Many of these recipes are easily changed if you want to substitue an ingredient that your child might prefer.
---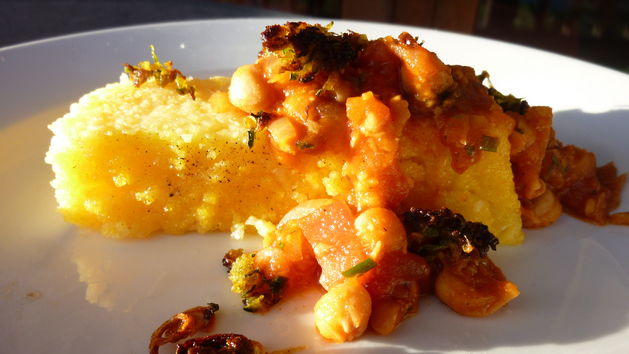 Polenta with Tomato Chickpea Sauce
While most kids are happy having spaghetti with plain tomato sauce, the addition of chickpeas provides some necessary protein. You certainly could use this sauce over pasta, but here I've paired it with polenta for a slightly different kind of supper.
This polenta with tomato chickpea sauce was served after allowing the polenta to cool, then I cut it into squares and broiled it and spooned the sauce over it, but you could serve it with soft polenta as well. Either way, the polenta and the chickpea sauce really compliment each other. Feel free to add some spinach or swiss chard to the sauce, otherwise, serve a vegetable on the side. If your child likes piquant flavours you can add some capers or olives.
---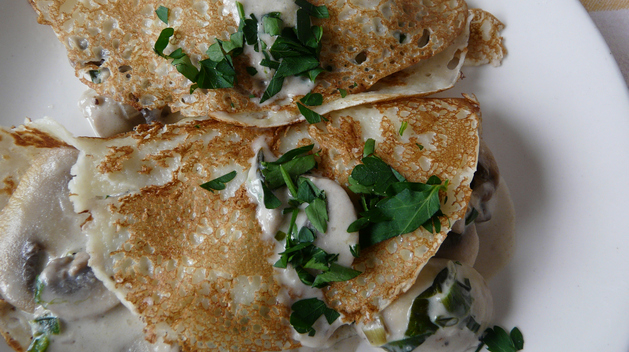 Mushroom Crepes
I loved crepes when I was a kid, but it wasn't until I was a bit older that I had them with savoury fillings rather than dessert fillings. I'd forgotten about them, until my daughter got interested in making them. She has become quite adept at them and can make a pile of them in no time at all.
We made these mushroom crepes as a light lunch, but they would work for dinner as well. If your kids don't like mushrooms, you can substitute any vegetable that would work well with a light cream sauce. Another favourite of mine is spinach, but you could use carrots, or parsnips. It's like having pancakes for dinner — what kid wouldn't love that?
---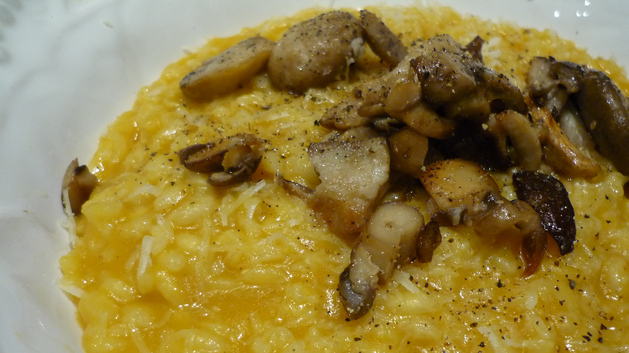 Pumpkin Risotto
You can make a classic risotto, but the addition of pumpkin adds some nutrition, as well as making it a beautiful golden colour.
I added sauteed mushrooms to serve with this, but you can use any vegetable you like, either on top or as a side dish. Some sauteed Jerusalem artichokes would go well, or a green leafy vegetable such as kale or swiss chardwould also be a delicious accompaniment.
---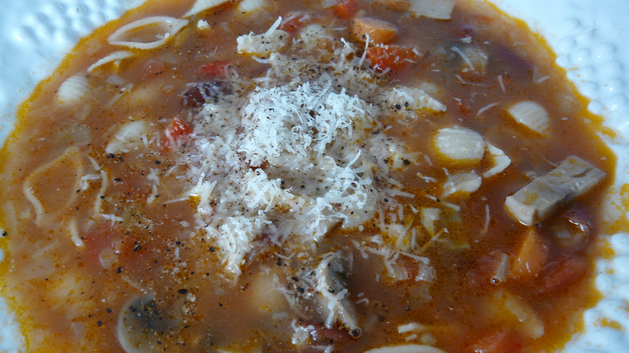 Vegetable Soup
The possibilities of vegetable soup are endless. I made this particular soup out of some leftover tomato pasta saucethat I had in the refrigerator and then just added whatever vegetables I had on hand.
This is a very forgiving recipe, and you can add anything that your kids like to eat. Carrots, celery, mushrooms, green peppers, canned tomatoes are all excellent additions. Add some small pasta shapes like shells or elbow macaroni, or even those tiny stars that are meant for Italian soups. If you want to add some protein, chickpeas or navy beans would both be terrific in this soup.
---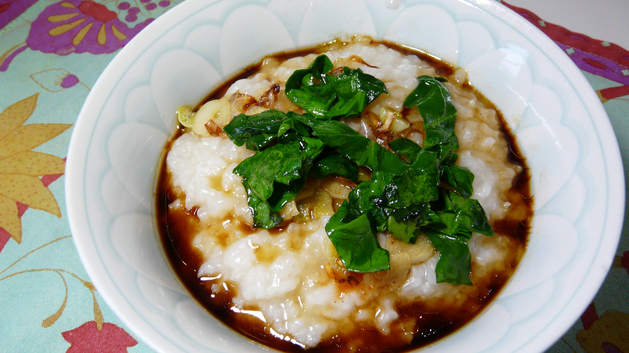 Congee
When my husband saw that I had included congee in this recipe collection, he instantly asked when I would make it again. Congee is a classic Asian rice porridge dish that is a popular food for children, but even adults (like my husband) find it addictive.
It's a bit time-consuming to make because the rice cooks for a long time before it breaks down, but it is an extremely easy dish. This recipe called for bok choy and I added a bit of chopped spinach on top instead, but you could also add a more substantial vegetable stir fry to the top if you like.
---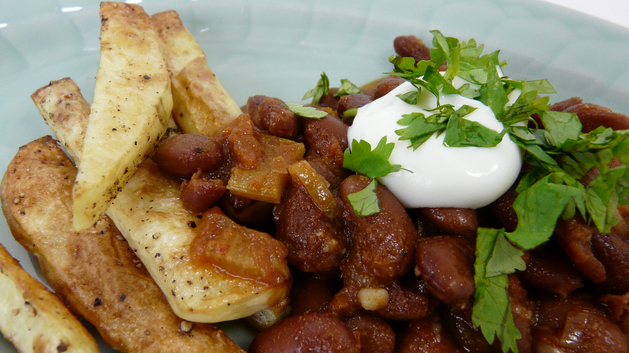 Vegetarian Chili Fries
I love fries, and I love chili, so the opportunity to put them together in this recipe for vegetarian chili fries was just too perfect to resist.
Unlike most chili recipes, this is very quick to make, and there is no need to let it sit for a day or two to let the flavours develop. It's not too spicy, so it's a perfect dish for kids. You can serve the fries and the chili side by side, or you can put the fries in a bowl and cover them with the chili, like poutine.
---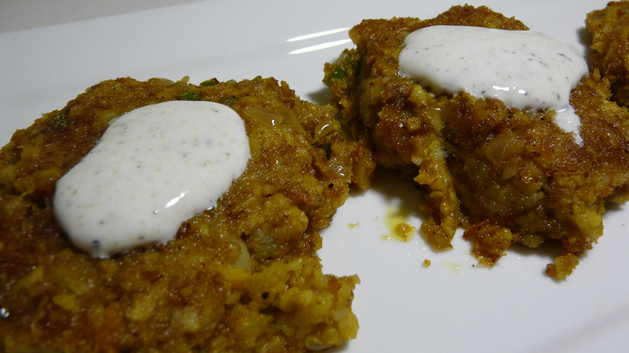 Potato Chickpea Patties
I have a few recipes for vegetarian burgers, a chickpea burger and a kidney bean burger being my favourites. This recipe for potato chickpea patties can be served on a bun, or just on a plate with a salad on the side.
This recipe is a bit softer than most vegetarian burgers, so if you are going to serve it on a bun, make it a soft bun rather than something crispy. The original recipe calls for canned corn, which I left out when I made it, but if your kids like it, by all means add it back in
---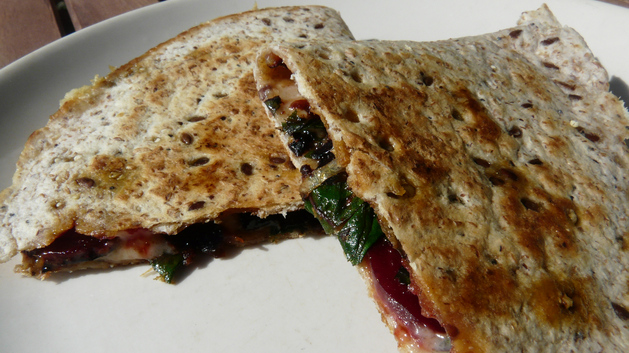 Beet and Greens Quesadillas
Beets are one of those vegetables that are kind of hit and miss with kids. They have an earthy flavour that some children don't care for, but on the other hand they are quite sweet tasting, and have a gorgeous colour.One of my daughter's favourite vegetable side dishes is for a beet carpaccio, which is lovely to look at and delicious.
This recipe for beets and greens quesadillas is very simple to make and the melted cheese holds the whole thing together for a nice, manageable hot sandwich that you can eat with your hands. Don't forget about beet greens, they are full of nutrition and many people just throw them away, not realizing how good they are to eat.
---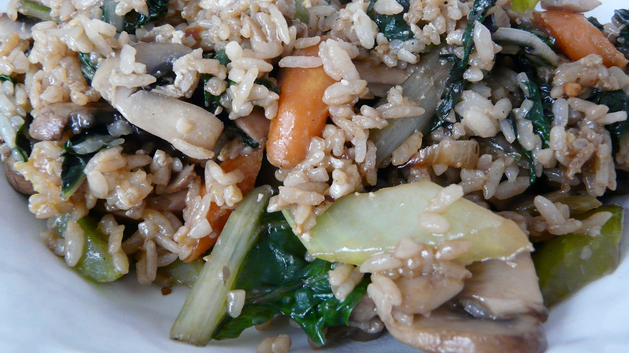 Fried Rice
Fried Rice is the ultimate dish to make for fridge clearing. Let your kids help decide what goes into the fried rice, based on what you have in the fridge already. Just about anything you can saute will work. Carrots, celery, green beans, asparagus, red or green peppers, spinach are all great things to add to a stir fry. Add some cubed tofu for protein.
You can tailor the sauce to fit your child's taste as well. Hoisin sauce will add a bit more sweetness, soy sauce or black beans will make it saltier.