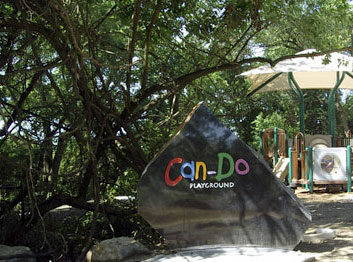 By ParksByNature Network
While playgrounds are constructed with the intent of providing endless entertainment for children, not all playgrounds are truly inviting so that every child can participate. This is not the case at Alapocas Run State Park in Delaware. At the park's Can-do playground, you can rest assured that there are opportunities to engage in fun physical activities regardless of whether your child is completely enabled or has a disability.
The Can-do playground is Delaware's first Boundless Playground™. Boundless Playgrounds™ is a non-profit company that makes play areas with the goal of inclusive play. Unlike traditional playgrounds, more than half of the Boundless Playground™ equipment is accessible to children with disabilities. These playgrounds are even designed to engage adults in the fun as well!
With safe wheelchair access walkways and features like rubberized surfaces, visitors will find the 23,000 square foot playground not only a thrilling place to be, but also a very accommodating environment!
As if that weren't enough, the playground area even has a garden with mazes and games for an added challenge and for a more spectacular view.
All the excitement at the Can-do playground will surely work up an appetite. Good thing there are tables and grills nearby. After having a blast, your whole family deserves a picnic feast!
---
This article was brought to you by ParksByNature Network. Download our Pocket Ranger App in your state at www.pocketranger.com/apps and explore the outdoors!